Ranking the All-Time Greats in the Majors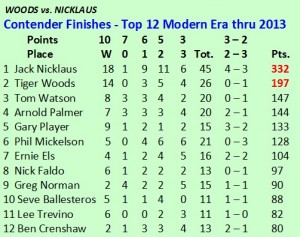 The all-time greats goals at the major championship are to: (1) put themselves in a position to win on Sunday, (2) contend late into the fourth round, and (3) to finish strong and win.
The best live for the thrill of playing in the final groups when the tournament is riding on every shot, which is why the Contender Finish Points system is top weighted – it assumes that a top player will be satisfied only when he has won or come close, no matter how painful some of these narrow misses may be.
Contender Finishes Ranking System
Here is how points are awarded in the Contender Finishes ranking system:
Win: 10 points
Playoff loss: 7 points
1 back: 6 points
2 back: 5 points
3 back: 3 points
Distant 2nd, 4 or more shots back: 3 points
Distant 3rd, 4 or more shots back: 2 points
The closer a player comes to winning, the greater the reward. Tying with the winner over 72 holes, then losing a playoff, is better than finishing a shot back. And finishing one behind is obviously better than finishing two back, so that is worth an additional point.
In most cases players who finish three back were not nearly as close to winning as those who ended up two back – that one stroke is a big one at the end of a tournament. As a result, three points are awarded for finishing three back.
Most of the credit (and the points) go the winner and to those who contended until the end. Still, much can still be said for beating all but one or two in the field even if the player is more than three shots back of the winner. As a result, Contender Finish Points are also awarded for distant seconds and thirds. A player earns three points for seconds that are four or more strokes back of the winner. Third place finishes four or more strokes behind the winner earn two points.
An Example of the CFP method: Jack Nicklaus' Record in the Majors
Let's examine Jack Nicklaus' record of 332 CFP. He earned 180 for his 18 major titles and 7 more for a playoff loss. Nine times he finished 1 shot back, netting him an additional 54 points (9×6). His 11 losses by two shots were worth an additional 55 points (11×5), and his 6 finishes 3 shots (6×3) back earned him 18 more points.
That's 314 CFP for the 45 times that he won or finished within three of the winner. Nicklaus earned an additional 18 points for his 4 distant seconds (4×3=12), and his 3 distant thirds (3×2=6). Again, that is 332 points, 135 more than Tiger Woods, who is second in the rankings with 197 CFP.